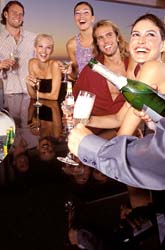 Party Chic was established in 2008, by Lucinda Gonzalez & Melissa Rivera. After planning weddings of our own, we realized our passion for party planning and the joy of helping family & friends make their own party planning ideas a reality. We specialize in Bridal Showers, Sweet Sixteens, Weddings, Corporate Events, Milestone Birthdays, Anniversary Parties, Theme Parties, Children's Parties & Bachelor/Bachelorette Parties.

Before we formalize our relationship, let's start off with a consultation, at no cost to you. We'll come to your home (or another location of your choice) and ask you a few brief questions. If you already have ideas, we'd love to hear them! Together, we'll come up with a package that's right for you, at a price that you can afford.

Please call Party Chic to schedule your complimentary consultation.